DICK TWO TON BAKER
The Music Maker of Chicago
Part 5
Television Pioneer
While Mercury records and the Mutual network were national institutions, most people who remember Two Ton Baker these days grew up in Chicago and watched his various television shows as children.
There had been a handful of small, experimental stations in Chicago in the late 1930s and early '40s, but after World War II, the only commercial station in operation was WBKB, which had started out as W9XBK in 1940 and had the distinction of introducing Burr Tillstrom's great Kukla, Fran and Ollie to the world in 1947. (For a detailed history of Chicago television see chicagotelevision.com.)
But when WGN-TV/Channel 9 opened for business on April 5, 1948, it became the biggest and most powerful with the patronage of the Chicago Tribune and WGN radio (and its affiliation with the the Mutual network)—and Two Ton Baker was the first person ever to appear on WGN. The station's premier broadcast was a two-hour all-star variety show that included Baker among many other performers. But, according to Two Ton in his 1972 interview with Chuck Schaden, there actually had been a test program the previous evening in which he was first on the bill of fare.
With his ebullient, infectious personality, Two Ton was a natural for the tube. Among the shows in WGN's lineup on its first full day of broadcasting, Tuesday the 6th, was "Wonder House," which featured Two Ton and the marionettes of Art Nelson, son of famed Chicago puppeteer Nicholas Nelson. Primary among Nelson's cast of creations for the show was "Half-Ton," a miniature version of Baker himself. A TV Forecast article on May 9, 1948, titled "Wonder House Enthralls Young Televiewers," described the show: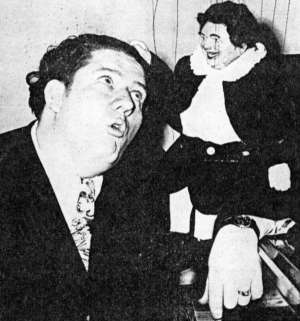 The "Wonder House" contains a number of magic rooms, such as the Puppet Room where Art Nelson's marionettes and puppets entertain daily, the attic where the daily club meeting takes place, and the living room where Baker pounces on the piano and specializes in novelty numbers. Baker's hindermate—he could hardly be called a helpmate—is Art Nelson's newest puppet creation, "Half-Ton," a small facsimile of his 350 pound prototype. Half-Ton strides the top of Baker's piano and otherwise heckles the music maker. The Puppet Room features every-other-day installments of children's stories, the first and present being "The Three Little Pigs."
"Wonder House" ran every weekday from 5 to 6 pm through July 29. It was described, with a brief film clip, on WGN's 40th anniversary program.
Baker's biggest kidvid show was "The Happy Pirates," which began on WBKB-TV/Channel 4 in 1952 and survived a change in ownership and channel number (ABC took control of WBKB in 1953, changing it to Channel 7; since 1968 it has been WLS-TV) to run until 1956, airing daily at noon. He would sing and play on a set designed to resemble an old pirate ship (the Cyclops) that was in such a state of disrepair that it was permanently docked at port. His sidekicks were Bubbles the porpoise (a puppet) and Squawky, a live parrot that supposedly had a filthy vocabulary from serving on a merchant ship in World War II. Luckily, it was a Danish ship, so nobody could understand the bird's salty sallies.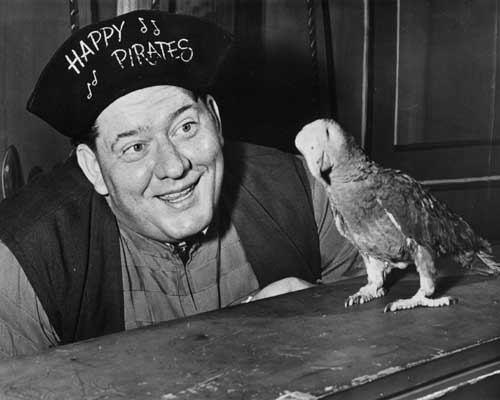 The show also aired cartoons, featurettes, and after a year, brought on a midget named Joe White, who appeared as "Little Oscar" (as in Oscar Mayer wieners, a show sponsor). Later Art Hern (who had been on the cast of the "Captain Midnight" radio show a few years earlier), joined the show as a sort of first-mate named Moby. Noted Chicago puppeteer Bruce Newton, famed for having created the wildly successful "Garfield Goose" character, created and worked Bubbles and other puppets that would appear on the side of the ship, and each Monday drew pictures for the kids.
Baker's other television activities are not at all well documented. In his Schaden interview, he mentions a show called "Movie Quick Quiz," in which during breaks in the airing of old movies, he'd call people on the phone at random to ask a question about the movie, awarding prizes for correct answers.
In 1969 or so he hosted "Corral 26" on Chicago's Channel 26 UHF station, introducing Republic western movies and selling Bosco, the show's sponsor. Ironically, milk was his downfall, weightwise. In a 1972 newspaper interview, he said, "Milk and bread always caused my weight problem. I'd come home from a show and down several glasses of milk and a buttered loaf of bread."
Two Ton also was in demand as a commercial pitch man. Perhaps most memorable was his long tenure as spokesman for the Riverview Amusement Park, which featured him singing a ditty he made up for the commercial and whirling into view jammed into a roller coaster car, singing "Laugh your troubles away!"
A most delightful anecdote about Two Ton Baker's importance in early television came in an email from his daughter, Debby, who recently retired from a career as a schoolteacher in Chicago:
Thanks so much for the "Wonder House" info and the "Happy Pirate"/Riverview photos. I enjoyed seeing them both. I really didn't know much about the puppet show as it aired when I was quite young. I did know, however, that Dad was involved with the beginning broadcasts of WGN. The picture that shows him in the studio reminded me of a "classroom moment": When I first started teaching, one of my students asked me how TV got into our homes . . it was one of those "let's look it up and see" answers. Lo and behold in the encyclopedia that was in my classroom there was that picture! It was fun to say to the kids "That's my Dad!"
But Two Ton always loved playing in restaurants and night clubs, and when the radio and television gigs slackened, that's what he did for the rest of his life. One of his longest stays was at the Ivanhoe from 1965 to 1970, and his last public gig was five nights a week at one of Chicago's most famous night clubs, Mangam's Chateau.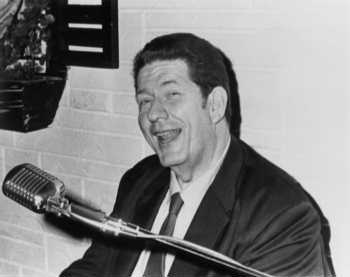 At Mangam's Chateau, c. 1972
Dick Two Ton Baker, the beloved Music Maker of Chicago, died at his home in Hazel Crest on May 4, 1975, just two days after his 59th birthday. He had requested that he be cremated, and his ashes are buried at Oakland Memory Lanes Cemetery in Dolton, Illinois.
--Dick Baker
________________________
Because of the obvious potential for confusion, I feel obliged to explain my connection to Two Ton Baker. We are not related, but I am a lifelong fan of novelty music and classic jazz.
In May 1975, at the annual reunion of the Coon-Sanders Night­hawks Fan Club in Huntington, West Virginia, I was introduced to an elderly banjo player from Chicago who, upon hearing my name, said, "Aha! Two Ton Baker!" Before I could react to such seeming cheek, he explained that there was a piano player of that name back in Chicago.
I'm sure I'd have forgotten that remark were it not for the most amazing coincidence the very next morning. I was killing time, wait­ing for breakfast to be served, by thumbing through boxes of 78 rpm records that had been brought for sale by people attending the meeting. And didn't I reach right in and pull out a Dick Two Ton Baker record! It was cracked and unplayable, but I bought it and have been buying them (or receiving them from sympathetic friends, especially Chicago jazzmen Wayne Jones and Mike Bezin) ever since.
But try as I might, I was never able to learn anything factual about Two Ton Baker, not even through the marvelous power of the internet and Google. But that all changed late in 2003, when a librarian acquaintance showed me how to get into the password-protected (and thus ungooglable) online archives of the Chicago Tribune. It provided a wealth of stories about Two Ton; most importantly, it contained his obituary. I was shaken to discover that he'd died just days before I'd learned of his existence on that day in May 1975.
But that obit also mentioned his last address, and through the able legwork of the aforementioned Mike Bezin, I made contact with his daughter, Debby, who has contributed a lot to my efforts.
Finally armed with enough information to tell a large part of the Two Ton Baker story, I felt it my duty to document the life and music of my namesake in the current medium of choice, the world wide web. Hence twotonbaker.com, which has all the source articles used here, plus photos, recordings, and a few radio shows, including the 1972 Chuck Schaden interview.
But there are lots of holes in the Two Ton story, so I consider anything I've written just a first draft. Readers who have their own direct memories of Two Ton and his career are invited to communicate them to me for inclusion in, or corrections to, subsequent editions of this narrative. --DB
---
Return to Two Ton Baker home page