DICK TWO TON BAKER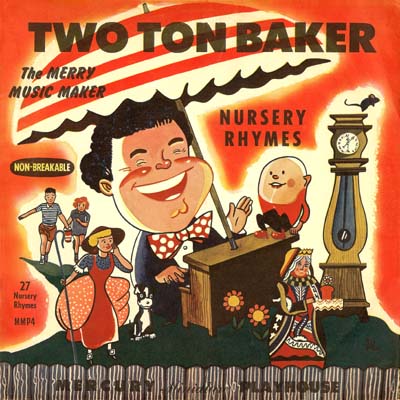 The Music Maker of Chicago
Part 4
Two Ton in the Grooves
It's difficult from this great remove to judge the impact of Two Ton Baker's recordings on the American public. I suspect that it was measurable, but not substantial.
His first known recording, made in November 1945, was a logical pairing of Chicago's top novelty performers. The Hoosier Hot Shots were big national stars, both through their record sales and their long residency on the National Barn Dance program, a precursor of the Grand Ol' Opry that could be heard over much of the country on the powerful WLS in Chicago.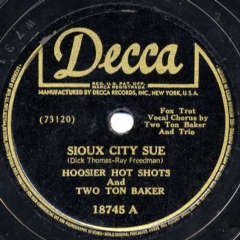 "Sioux City Sue" was the absolute megahit of its day. It was recorded six times in 1945, and four of those renditions--by Dick Thomas, Zeke Manners, the Hoosier Hotshots & Baker, and Tiny Hill & His Orchestra--got into the top 5 of Billboard's chart for the year. The phe­nom­e­non continued into 1946, when the song was recorded by several more top performers, including Bing Crosby and the person that history now associates most with the song, Gene Autry.
Unfortunately, because it was a Hoosier Hot Shots recording session on their label, Decca, Two Ton gets ignored when the recording is cited on listings of top hits of the year, yet it's just as much a Two Ton Baker record as a Hoosier Hot Shots record. His biggest hit record--and he seldom gets credit for it.
In 1946, Two Ton began recording with his only real "home" label, Mercury. We'll never know if Two Ton Baker would have found his way to children's music without being a father himself, but the fact is that by the time he joined Mercury, his son was seven years old, his daughter was on the way, and dad was devoting a lot of his energy to songs for children. His first eight sides for Mercury were for kids, as were many of his later recordings, not to mention his TV shows (which we will mention, later).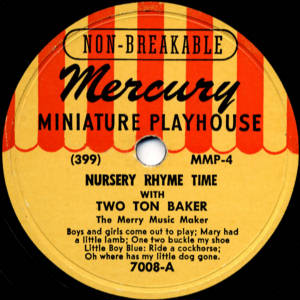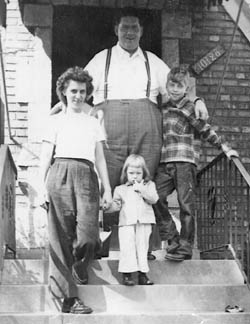 Richard Evans Baker, Jr., was born in 1939; Two Ton dubbed him, with genuine affection, "Jughead." His little sister Deborah Lynn was born in 1946. Jughead died in 2010; Debby, retired from a career as a public school teacher, still lives in the Chicago area. (Right, the Baker family, c. 1948.)
Besides his many children's songs, Two Ton concentrated on novelty songs, some of which he seems to have been the sole possessor of; others he covered after they had hit it big for national stars.
The songs that most visitors to twotonbaker.com remember are "The Soup Song," "I Like Stinky Cheese," "I'm a Lonely Little Petunia (in an Onion Patch)," and "One Meat Ball" (evidently he sang "One Meat Ball" frequently on his "Happy Pirates" TV show in the early 1950s but never recorded it).
"The Soup Song" (1947) is interesting in that it's the best remembered song, but not by its name. People just say, "What's that song about the different foods on the different days of the week? That was a big favorite of mine." The song (presumably written by Baker), runs through the days of the week, listing the activity to be undertaken or the food to be eaten: Monday washday, Tuesday stringbeans, Wednesday soup, Thursday roast beef, Friday fish, Saturday payday, Sunday church.
"I Like Stinky Cheese" is a delightful novelty written by Mart Fryberg and Dave Mann. A lot of people too young to remember 78 rpm records have heard Two Ton's rendition of this song played on the nationally syndicated Dr. Demento Show of novelty ("demented") music.
Among the other well known novelty songs that Baker covered on Mercury were "Too Fat Polka," "Managua, Nicaragua," "A Chocolate Sundae on a Saturday Night," "Civilization," "Put Your Shoes On, Lucy," "Music! Music! Music!" and "The Thing," his last Mercury 78, recorded in 1951. Some pop tunes with slightly less novelty content were "Zip-a-Dee Doo-Dah," "Chattanoogie Shoe Shine Boy," "Kansas City Kitty," and "Are You from Dixie?" with fellow Mercury artist Tiny Hill--who weighed just as much as Two Ton. The flip side of "Dixie," "I'm a Bigger Man Than You," was a comic repartee on their size.
And he made more than a few really odd records that, as far as I've been able to learn, only he recorded, such as "Chick-a-Biddy Boogie" and "Ev'rybody Kissed the Bride."
Two Ton also made a few serious songs and instrumentals, such as "Near You," "Why Fall in Love with a Stranger," and a piano-plus-rhythm recording of Duke Ellington's "Dancers in Love."
In discussing his recorded highlights in that 1972 interview with Chuck Schaden, Baker mentions "Near You," "Petunia," and "Rickety Rickshaw Man." He also notes, "We had the original recording of 'Zip-a-Dee Doo-Dah'" ("original" presumably means the first cover of the song after Disney's Song of the South was released). And as for "Two Fat Polka": "Of course, Arthur Godfrey was first on that, but I was very fortunate to get in on quite a lot of the sales with that, and the record sold quite well." He also states that he recorded from Mercury from 1946 through the mid-'50s, but the last entry for him in the Mercury 78 discography is 1951. One visitor to twotonbaker.com reports that his father had a Mercury LP of Two Ton's children's songs from the '50s, so perhaps this is what Baker had in mind.
We do know that he recorded four children's songs on 45 rpm records for the Moppet label in Hollywood, California, in the 1950s. Judging from internet search results, one of those sides, the plaintive "I'm a Little Weenie," seems to be fondly remembered by quite a few people. And another, "Clink Clank (in My Piggy Bank)," was also released on the London label in the United Kingdom.
We next find Two Ton on 45s on the Heartbeat label owned by Seymour Schwartz, a Chicago "man about music" who owned Seymour's Record Mart on Wabash Avenue. Schwartz's Seymour label produced 78s for a few years starting in 1950; then, in 1955, he launched Heartbeat ("Music with a 'heart' and a 'beat'") to produce 45s primarily for juke box placement. I've found ten such 45s featuring Two Ton and have no way of knowing how many more there might have been.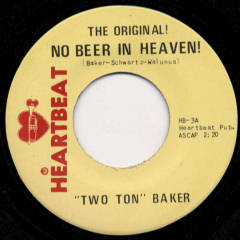 Heartbeat operated into the mid-1960s, when it was replaced by Sunny, named after Schwartz's daughter. Sunny issued some sides that had been cut for Heartbeat, but drummer Phil Stanger remembers a series of recording sessions for Sunny in the late 1960s and early 1970s that featured Two Ton with Stanger, bassist Paul Friedman, and the inimitable Seymour himself on what he called "heartbeat trumpet."
The Heartbeat sessions were, alas, often simply tasteless, sometimes featuring a trick (thumbtack) piano and what sounds like either a hyperthyroid drummer or a primitive rhythm machine. The Sunny quartet sessions, on the other hand, are a delight, with the rhythm section (which really includes Schwartz's muted horn) supporting Two Ton's pleasant baritone singing and piano playing. They remade a couple of Two Ton's classic novelty songs, "Too Fat Polka" and "Petunia," but most were pleasant ballads or medleys. These sides, originally released as 45s, were repackaged into a Sunny LP in 1972.
---
Return to Two Ton Baker home page