DICK TWO TON BAKER
The Music Maker of Chicago
Part 2
Radio Days

Dick Baker was precocious in more ways than one: At the age of 20 he met and married Ruth Fisher, a fellow Chicagoan, and stayed married to her the rest of his life (they're shown at right, c. 1958). Baker was still on the road a lot, and Ruth traveled with him, but perhaps, once married, he figured it was time to stay in one place. In June or July of 1938 he took his first radio job, doing a two-hour show called "Sunday Morning Party" on WJJD in Chicago and simulcast over WIND in Gary, Indiana, owned by the same people. Evidently, he was more disc jockey than performer in his early radio career.
(One brief story in the Chicago Tribune in May 1944 states that Two Ton actually made his radio debut in Cedar Rapids, Iowa, in 1932 while appearing there with a band. We know he was going on the road with bands by the time he was 16, so this is possible, although I've never found any other reference to radio work before 1938. And 1938 may really be 1939. Baker stated it as 1938 in a 1972 interview, but several different articles about him in the Chicago Tribune in the 1940s have him starting at WJJD in 1939.)
It was during these early days in radio that a fellow worker named Irving Wagner suggested the nickname Two Ton "to add a little zip," and Two Ton it was henceforth. (For my fellow copy editors in the audience: He didn't write it with a hyphen, and he usually didn't use quotation marks.) And somewhere along the line he added the sobriquet "The Music Maker," which is how he introduced himself on his radio shows. Also, most of the Mercury 78s he made with a rhythm section are billed as "Two Ton Baker and His Music Makers."
Two Ton also played in various restaurants and nightclubs in the area. He was playing at the 1111 Club when he started the WJJD/WIND job. He left there in 1943, working at clubs again before taking another broadcast job, in 1944, that would shape most of the rest of his career. WGN was a major station in Chicago, owned by the town's biggest newspaper, the Tribune (trivia note: WGN stands for "world's greatest newspaper," the Tribune's slogan).
WGN certainly got its money's worth out of its new acquisition. In a 1972 interview with Chicago old-time-radio guru Chuck Schaden, Two Ton says he had an early show, at 8:15 a.m., then his network show at various times in the midafternoon. After that came "Baker Spotlight" at 4:30, then, two to three times a week, a show for Sealy Mattress company. And he participated in a Sunday afternoon quiz show called "Mr. & Mrs." He also talks of appearing regularly on "Chicago Theater of the Air," a star-laden program that ran on WGN from 1940 to 1956 and that was relayed nationwide on the Mutual Broadcasting System. It's not stated in that interview that all these programs ran concurrently, which is highly unlikely, but he obviously was a major presence on Chicago's major radio station.
But it was Two Ton's 15-minute afternoon show that made him a household name around the country. Mutual was owned by a consortium of radio stations that included WGN, and by the time Two Ton joined WGN, Mutual had more than 400 affiliate stations around the country. One of the more interesting artifacts I've run across is a 16", 33 1/3-rpm disc issued by the Standard Radio Transcription Service with 31 short weather forecasts by Two Ton and his piano, each titled something like "fair and warmer," "showers and much warmer," "snow and colder," etc. My presumption is that this disc was sent to stations on the Mutual network so they could check the forecast and cue up Two Ton Baker doing the "local" weather.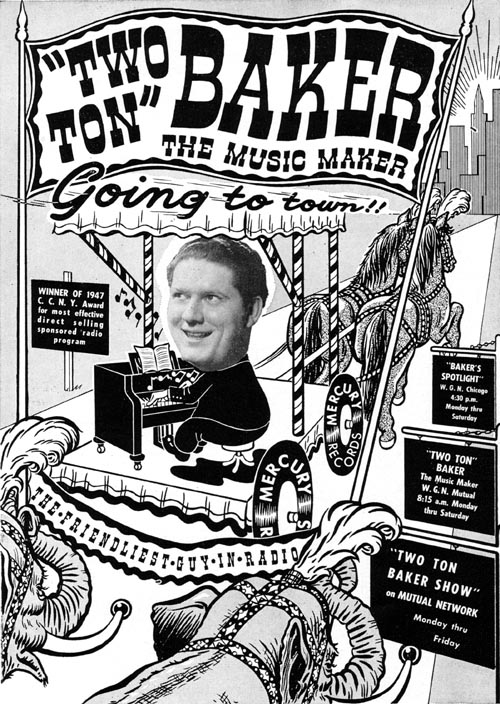 ---
Part 3: Fan and Friend of the Duke
Return to Two Ton Baker home page